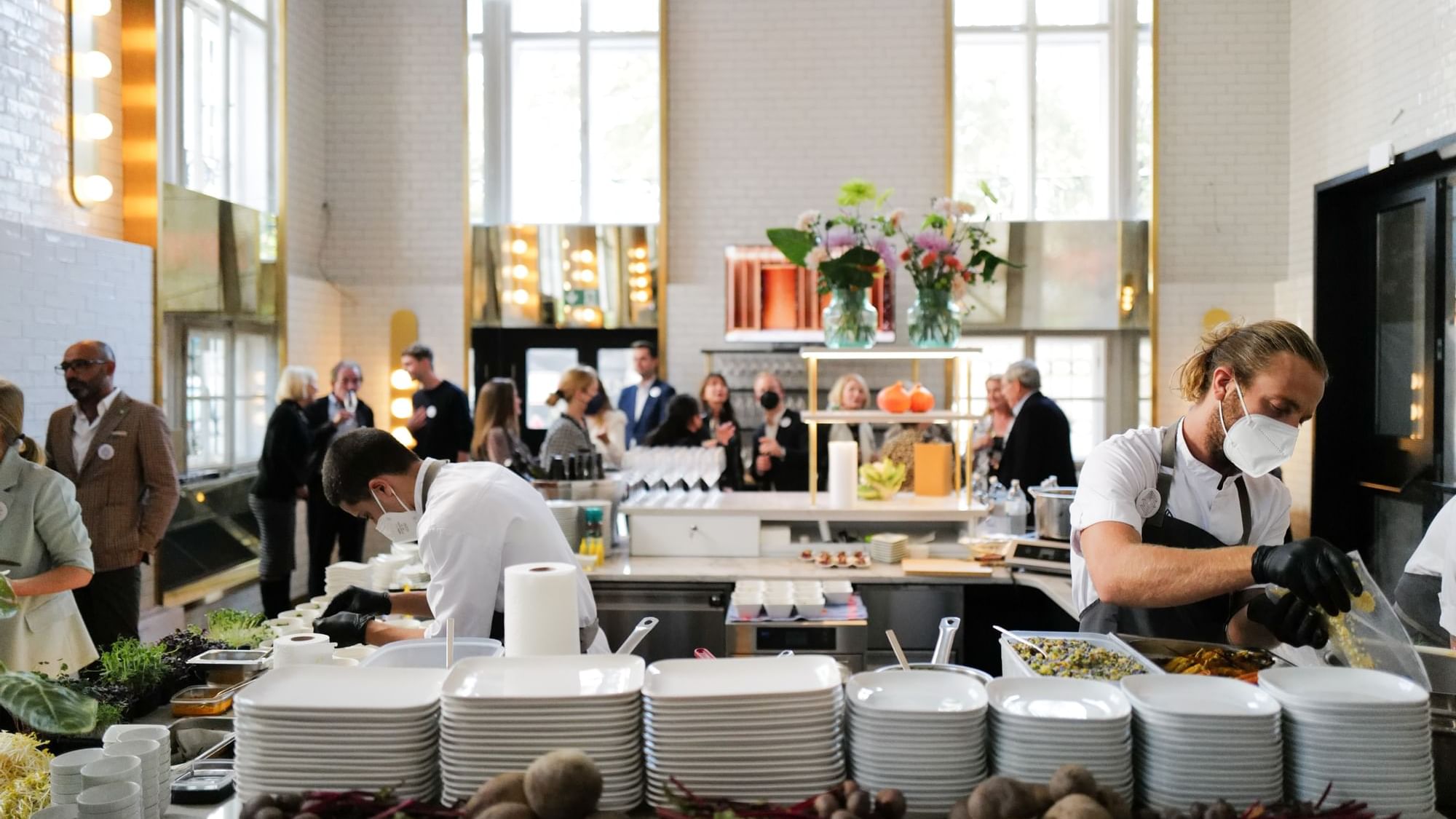 The F&B Manager reports to the Executive Chef and is responsible for the day-to-day operation of the banqueting department, restaurant, bar, In-room dining and coffee shop.
The Brand
To invite guests into the living, breathing experience of travel, to celebrate the sensorial details and authentic human stories and cultural connections found in Almanac.
The Vision
Sensory Hospitality, a world where our hotel serves to truly feel connected to the soul of the city you wish to discover. A place where travelers can indulge in their senses, lean in to discover, be curious, and feel like part of the city culture.
The Mission
We believe our interactions with guests are as important as the design of our hotels. In fact, our dedication to genuine, inviting, warm service is what we are most proud of. Our staff is the living, breathing example of the Almanac brand, making each guest feel cared for, among friends, and a part of this inspiring city.
The Hotel
Almanac Palais Vienna, a culturally rich hotel is located on the Ringstrasse, which is arguably the most beautiful boulevard in the world. The hotel consists of 111 accommodations, of which more than two thirds are suites. A restaurant and bar will be the main center of gathering for locals and visitors alike. Currently undergoing a complete renovation, the hotel will open with a sophisticated spa, concept store, coffee shop and stunning event spaces.
What we trust you with
Lead, inspire and guide the F&B department of the hotel

Design service system that enhance customers' experience while keeping up luxury quality of hotel's F&B services and products

Promote awareness and maximize revenues for the Almanac Palais Vienna

As this role is Pre-Opening and leads into an Operational situation, the F&B Manager together with the Executive Chef and Corporate Director F&B is expected to prepare and be involved in all aspects of Pre-Opening from strategy to implementation and related activities as may be necessary.

Support, in conjunction with the General Manager, Executive Chef and Corporate Director F&B the definition overall strategy in terms of pricing, placement and branding of F&B outlets within the hotel to ensure alignment with brand expectation.

Participate in the preparation of the hotel's annual business plan, and Sales & Marketing plans to ensure performance is monitored and reported so that necessary actions are taken in a timely manner.

Contribute to the preparation of the hotel budget and monitor the financial performance of the F&B outlets versus the budget so that areas of unsatisfactory performance are identified, rectified promptly and potential performance improvement opportunities are capitalised upon.

Plan, direct and monitor services and F&B standards in all outlets and kitchens ensuring that managers take corrective actions as necessary in adherence to Almanac policies and standards.

Monitor closely the profitability of all F&B outlets to provide solutions to improve performance and direct in implementing corrective measures.

Ensure all F&B colleagues adhere to uniform and grooming standards, and that hygiene standards are relentlessly enforced to demonstrate a professional image consistent with the brand.

Recommend improvements to departmental policy and manage the implementation of procedures and controls covering all areas of activity so that all relevant procedural requirements are fulfilled while ensuring that hotel delivers world class services, excellence, and innovation.

Live and Breathe the Almanac brand standards and be role model to the team and all hotel employees
What makes you a match
2-3 years' experience in running F&B departments in a luxury lifestyle hotel including budget responsibilities

Motivation to make your department and team the best in the city

Proven ability to lead and inspire a team

Strong passion for the art of food creativity

Communication, F&B Knowledge, Creativity, Teamwork and Organizational Skills needed

Team player, organized, up to date, communicative, result driven, detail oriented, multi-tasking capabilities

Self-motivated and energized, motivated, and keen

Very good German and English skills, both verbal and written, additional language beneficial

Energy and passion to work every day and be excited about living and working in Vienna

Passion for flawless service, tenacity, the highest level of integrity and work ethic

Deliver bespoke experiences for clients and employees
You
Warm
Authentic
Connected to Culture
Curious
Accessible