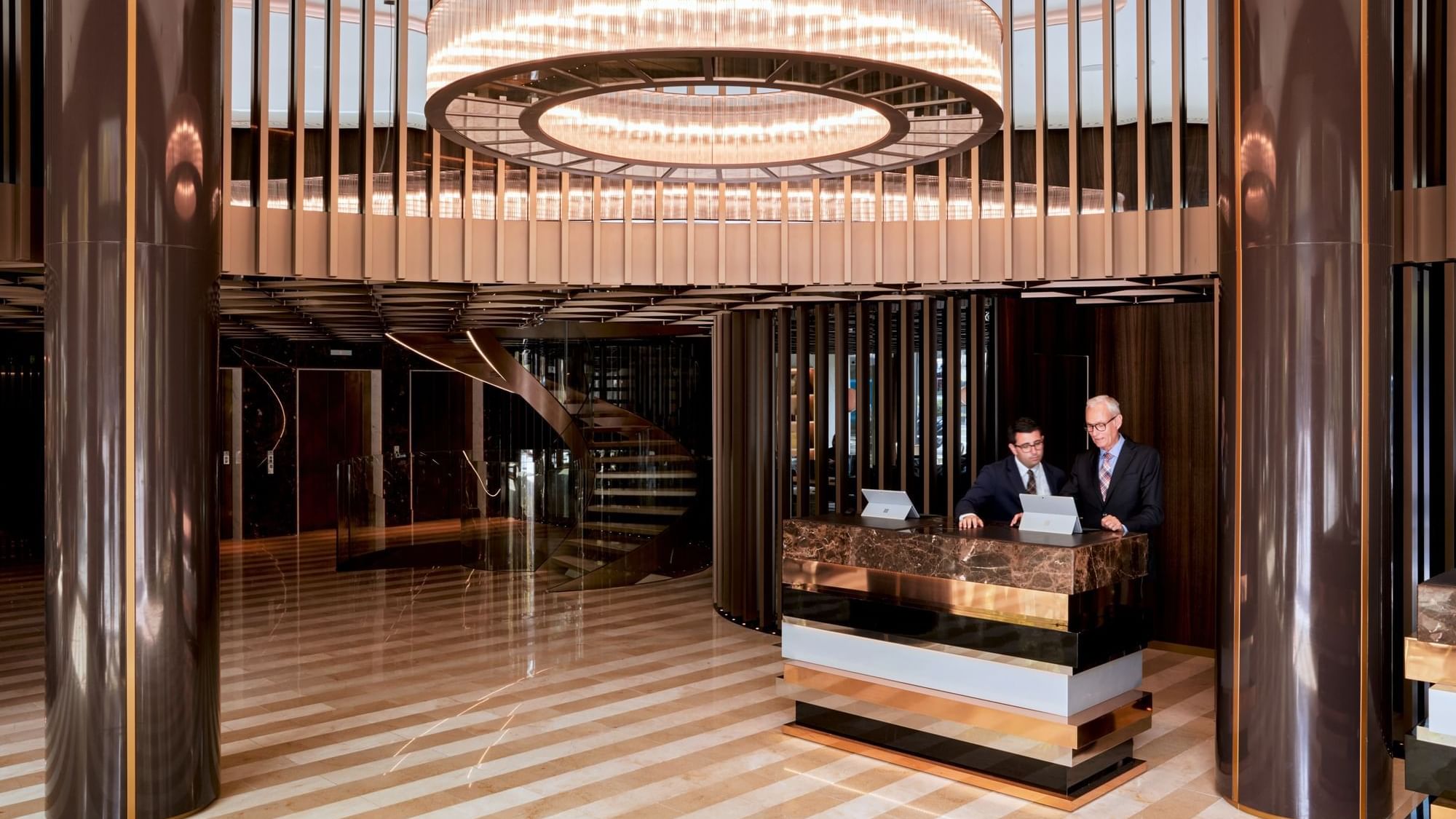 Assistant Front Office Manager
To support the Front Office Manager in the organisation, management and control of the Reception and Concierge area. To satisfy, following the quality standards of the hotel, the needs of the client in terms of reservations, assistance and information, attending to communications, carrying out administrative, billing and commercial functions.
Responsibilities and tasks
40 hours per week
Organise the department's activities by distributing work according to forecasts and assigning specific tasks according to specific needs in accordance with occupancy rates, group arrivals and departures, stay extensions, etc.
Supervise the planning of short, medium and long term bookings, taking into account overbooking situations in order to propose and carry out the relevant actions.
Review no show lists, VIP clients, rooming lists, etc.
Organise the arrival of groups.
Prepare and supervise daily occupancy reports.
Coordinate with the housekeeper the activities that concern both departments: room reconciliation reports, check-in and check-out rooms, room changes, special customers, blocking, etc.).
Coordinate with maintenance for breakdowns, repairs, specifically monitoring those that affect the stay of customers.
Carry out the tasks and functions of reception and concierge, intervening personally as a support element for their dependent staff, with the aim of speeding up the process.
Supervise the activities carried out in their area, in order to maximise the performance of the services and verify that the client has received a service in accordance with what was expected.
Receive and personally attend to VIP clients or others who, due to their importance to the hotel, are considered necessary, verifying the allocation of their rooms.
To attend and respond in an efficient, friendly and discreet manner to claims and complaints made by clients, using the most appropriate techniques in each case, in order to achieve the maximum level of guest satisfaction.
To have a close relationship with the commercial department and management for a better management of the booking and development of promotional and sales actions.
Direct and intervene in the activities of the front and back of reception and concierge to promote the work under a high standard of quality.
Supervise the concierge and telephone activities, verifying the good service of porters, bellboys, telephone answering, taking special care in special situations due to occupancy, groups, events, etc.
Attending meetings.
Supervise the fluidity of interdepartmental communication.
Check the proper use and maintenance of the utensils, machinery, equipment, etc. of the units or sections that depend on him/her.
Keeping up to date the bookings (time limits, guarantees, quotas, release dates, prices) in collaboration with the supervising Head host.
To carry out M.O.D. guards according to the needs of the hotel.
Knowledge and experience
Diploma preferably in Hospitality and Tourism, Higher Technicians in Vocational Training in Hospitality.
Experience with PMS Opera.
Knowledge of office automation at user level.
High level of English, Spanish and other languages.
Minimum 2 years of experience as receptionist and concierge.
Experience in hotels of similar or superior category.
Skills to perform in the position
Problem solving and decision-making skills.
Service orientation and excellent organizational skills
Positive attitude and excellent communication skills
Ability to work in a team environment
Able to work under pressure and remain calm in difficult situations.
Time availability
Dynamic person
People skills
Barcelona Ambassador
Benefits and opportunities
The hotel offers continuous training, uniform cleaning, meals per shift, locker, being part of a team with a passion for hospitality and genuine service to guests.